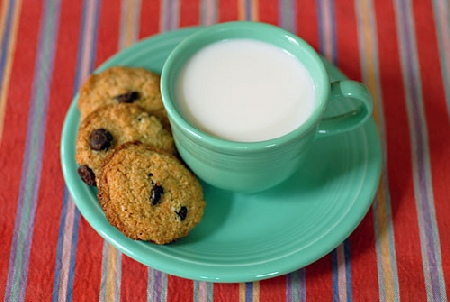 Uno studio pubblicato sull'American Journal of Clinical Nutrition afferma che chi fa colazione con una bella tazza di latte, arriva a pranzo con molta meno fame e questo si traduce in meno calorie assunte ed un fisico più magro! Pensate che si possono risparmiare fino a 100 calorie a pasto.
Avevamo già detto dell'importanza fondamentale di non saltare la prima colazione ma da oggi un breakfast più sostanzioso si traduce in un investimento sulla linea.  Alcuni ricercatori della School of Medicine and Pharmacology University of Western Australia di Pert, hanno fatto uno studio invitando  le persone a fare colazione, salvo casi di intolleranza, con il latte scremato (più leggero rispetto a quello intero) anziché con tè e succhi di frutta.
Questi i risultati: soggetti che assumono latte a colazione mangiano il 9% di meno a pranzo, con un vantaggio traducibile in circa 50 calorie. Se poi al latte scremato ci aggiungiamo anche dei cereali, arriveremo a pranzo con molta meno fame e soprattutto senza andare a cercare cibi ricchi di zuccheri o peggio ancora di grassi.  Oltre a contenere calcio e vitamina D, il latte scremato contiene infatti proteine come la caseina che stimolano il senso di sazietà. Rispetto al succo di frutta oppure al tè, il buon vecchio bicchiere di latte sembra proprio riempire l'appetito. Sarà un ritorno alle vecchie e care abitudini della nonna? Fateci sapere cosa ne pensate!