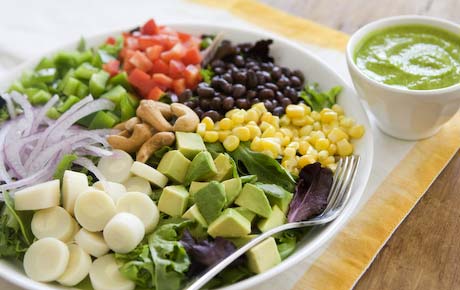 Sulla dieta vegana esistono studi di tutti i tipi e ovviamente due fazioni: pro e contro. Tempo fa avevamo riportato studio pubblicato su Journal of Agricultural and Food Chemistry che metteva in evidenza come le persone che seguono un regime dietetico vegano avevano maggiori possibilità di avere patologie cardiovascolari.  Non sono per nulla d'accordo gli esperti della Loma Linda University in California: mangiare verde fa bene al cuore.
Secondo i medici, infatti, riduce la possibilità di avere disturbi cardiaci, ma anche di sviluppare il diabete. Inoltre, tra i vegetariani vi sarebbe circa un 36% in meno di prevalenza della sindrome metabolica. Un quadro che sponsorizza decisamente questo regime alimentare: ci sarebbe da chiedersi chi ha ragione.
Continuiamo con il nostro nuovo studio: la sindrome metabolica purtroppo contribuisce all'insorgere di tutti quei disturbi come pressione alta, livelli elevati di colesterolo HDL, alti livelli di glucosio e trigliceridi, e una malsana circonferenza della vita, la famosa pancetta che piace poco a uomini e donne.
Questo studio non dice (e ci tengo a sottolinearlo) che essere vegani voglia dire non avere la sindrome metabolica: durante le analisi è emerso che il 25 per cento dei vegani ne erano colpiti, così come il 37 per cento dei vegetariani e il 39 per cento dei non-vegetariani. Ovviamente sono stati considerati anche fattori quali età, razza, sesso, attività fisica, calorie e stile di vita.  Il risultato dello studio ha però evidenziato che vegani e vegetariani vivono tre anni in più rispetto ai non vegetariani, inoltre i vegan avevano anche trigliceridi, pressione arteriosa, glicemia, Indice di Massa corporea e circonferenza della vita più bassi.
Il campione di persone su cui è stato fatto lo studio è di 700 persone: non è enorme, ma è decisamente affidabile. Forse ora qualche conclusione possiamo anche tirarla da soli. Ridurre la carne non salva la vita, ma la migliora. Questo è un consiglio per i non vegetariani che tendono a esagerare.
[Fonte: LaStampa]